Telephone Deutsch and English: +1 949-716-0644
WhatsApp: +1-310-806-2872 or +1-949-537-6285
Please contact us

and we will be glad to answer

any questions you may have
Alfa Romeo Giulia 1300 TI
Model year: 1968
1272 cm³
w/original 40.200 Mls
1 Owner car
Recent Import from Switzerland known internally as Tipo 105.39, the Giulia 1300Ti (Touring Internazionale) is an evocative Alfa Romeo sports sedan from the late 60's.
Sharing a sublimely detailed body with its siblings, the Super, the 1300TI features a sonorous 1.3 litre twin cam engine equipped with a twin Solex Carburators (factory upgrade), A 5-speed gearbox and disc brakes all around give these eager cars some reliability. As with all Giulias they are a huge pleasure to hustle down winding back roads. It starts easy and runs so smooth you forget its on. The suspension, steering, shifting, brakes are incredibly tight. The engine has great power and oil pressure. The engine block is dry.
Invoice attached for a recent service which was performed on the car.
One older repaint in the original color which has preserved quite well, although there is a bit of patina. I would rate the paint 75/100. The undercarriage is clean, and rust free.
The dash, carpets, front and back seats, door panels and all instruments are perfect…!
Everything on this little car works except the original Blaupunkt radio.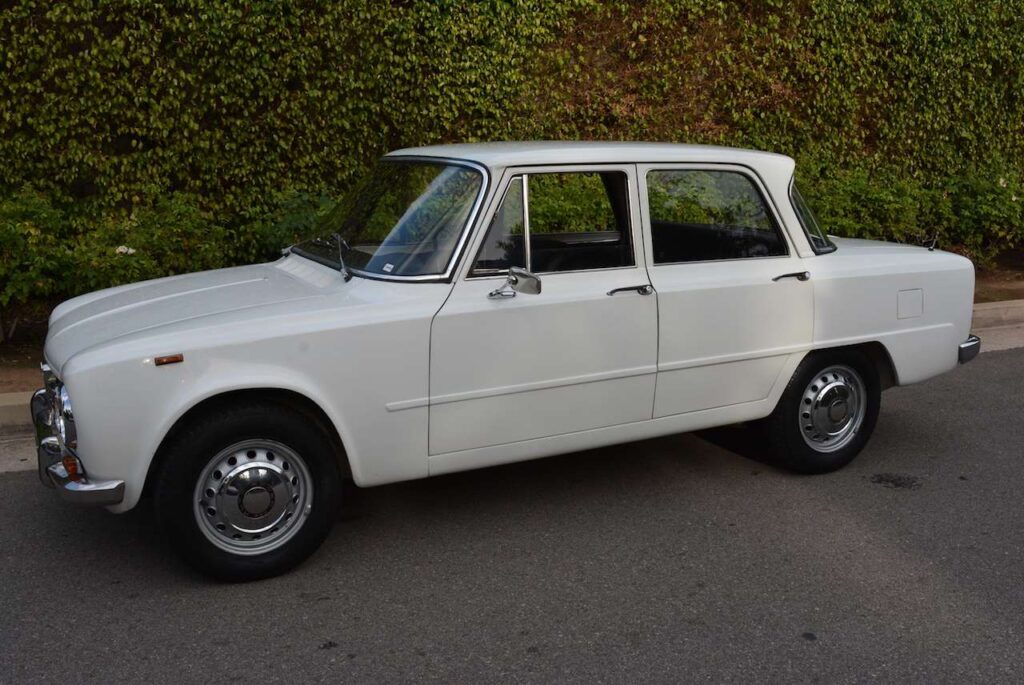 Sales price is ex Los Angeles
This car is a pre 1972 Classic. It can also be sold in California
$OLD
Willobey Investments LLC — A Full Service Company
WILLOBEY INVESTMENTS LLC
Mission Viejo CA. 92691
Phone: +1 (949) 716 – 0644
Mobil: +1 (310) 806 – 2872
Contact-Willobey-Investments LLC
All information, material, data, creative content, formats and photographic content in this website is copyrighted © 1999-2022 by Willobey Investments LLC . All logos are owned by their prospective companies
Willobey Investments LLC – Full Service Company –