Phone and WhatsApp
Regina 949-537-6285 or Frank 310-806-2872
Please contact us

and we will be glad to answer

any questions you may have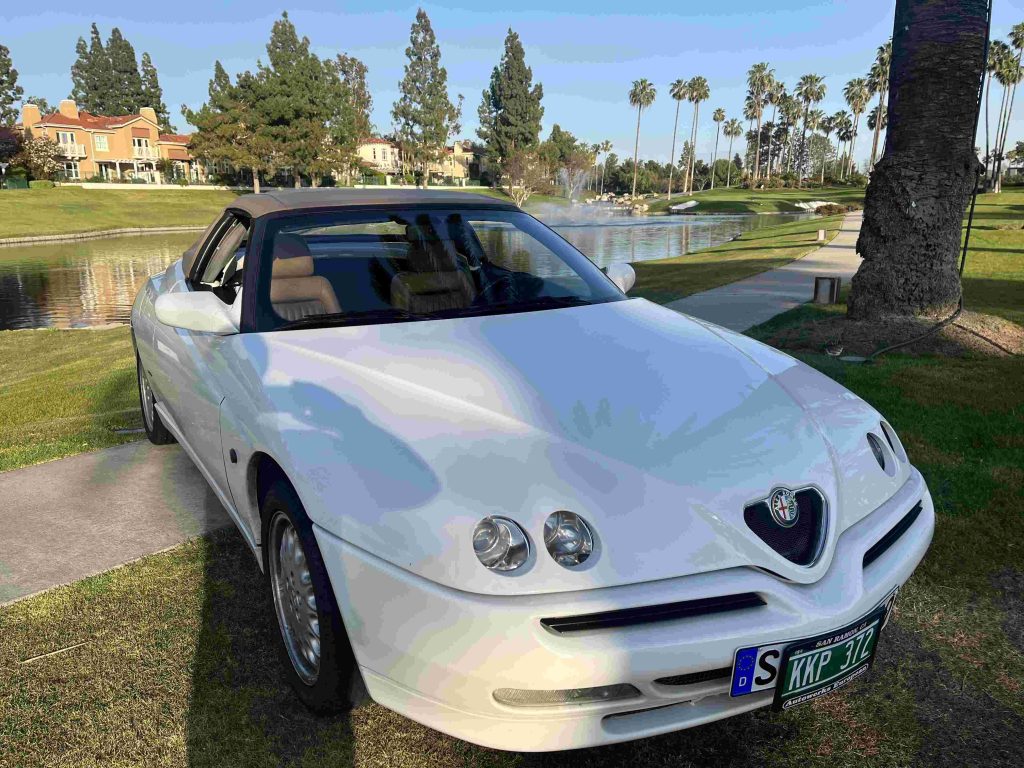 Complete Engine rebuilt in October 2022
Alfa Spider 2.0 TS LUSSO
Engine has been completely rebuilt in October 2022
After testing now 1700 Miles
Model year: 1997
1998 cm³
150 HP
Mileage: 72.465 Miles / 118.300 KM
Engine has completely been rebuilt in October 2022 w/zero miles
After testing now 501 Miles
The previous owner took the car in for service about two years ago. When they changed the oil, they removed the oil line to the oil cooler. They didn't tighten the line, so it came loose and all the oil spilled out. We had the engine taken apart. The block went to a machine shop. New pistons rings. New crankshaft and new bearings. Everything was done according to Alfa Factory specifications.
New radiator and oil cooler.
Since the engine was out, we also had the clutch replaced as well.
Of course all fluids changed
2 owner car
Second owner for the past 15 years was a lady driver
Climate control
Alpine white
Leather tan
ABS
Board computer
Power windows
Power mirrors
Alfa Alloy Wheels
Perfect condition
Fully loaded
Leather Tan
Sales price is ex Mission Viejo
But anywhere else in the 49 states
The car is currently registered in VERMONT
$OLD
Willobey Investments LLC — A Full Service Company
WILLOBEY INVESTMENTS LLC
Mission Viejo CA. 92691
Phone: +1 (949) 537-6285
Mobil: +1 (310) 806 – 2872
Contact-Willobey-Investments LLC
All information, material, data, creative content, formats and photographic content in this website is copyrighted © 1999-2023 by Willobey Investments LLC . All logos are owned by their prospective companies
Willobey Investments LLC – Full Service Company –